2 Sep
Full-Time

Nurse Practitioner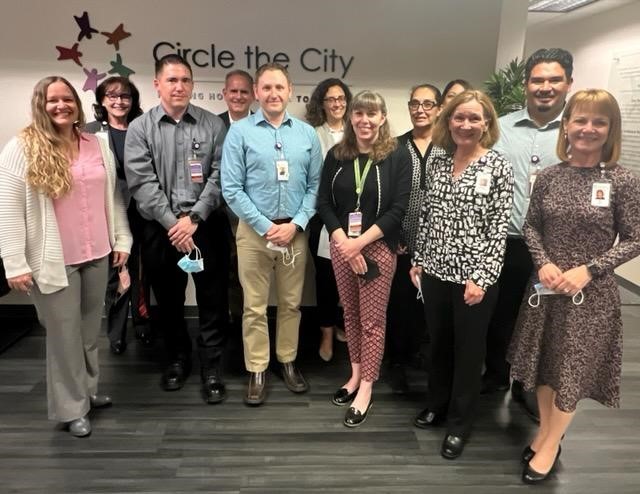 Job Description
Job description
JOIN OUR DYNAMIC TEAM OF PROFESSIONALS THAT DARE TO MAKE A CHANGE! OUR MISSION IS TO HEAL THE HOMELESS!
Are you a passionate self starter looking to utilize your skills and make a difference? Circle the City is the home for you! Together we can make a difference!
INTERNAL PROVIDER NEEDED
Position Title: Respite Intake Advanced Practice Provider
Reports to: Medical Director of Respite Centers
Supervises: N/A
$15,000 sign-on bonus paid monthly for 9 months after your 90 day is met.
****COVID vaccination required or approved religious/medical exemption.
Summary of Position: The Respite Intake Advanced Practice Provider evaluates patients experiencing or at risk for homelessness for admission to Circle the City's Respite Centers and ensures services match patient needs. Collaborates with community partners and staff members to limit gaps in care and facilitates a smooth transition to CTC Medical Respite Centers.
Essential Duties:
Duties include, but are not limited to:
· Uses sound clinical rationale and CTC Medical Respite criteria to determine if a patient experiencing or at risk for homelessness qualifies for admission to a Respite Center
· Assesses patient health by reviewing medical records and interviewing patients
· Identifies and obtains missing medical records to obtain a complete clinical picture through documentation
· Utilizes critical thinking to develop transition care plans
· Documents and communicates clinical decision making accurately and effectively
· Conducts pre-admission assessments to ensure appropriate placement
· Completes comprehensive admission history and physical exam, orders and interprets diagnostic tests, and provides continuity of care by developing and implementing evidenced based treatment plans
· Serves as a clinical resource for the Intake Team and CTC Health Navigators
· Collaborates with the Medical Director of Respite Centers and community partners to deliver care that supports the needs of the patients and the community
· Meets agency requirements regarding timeliness of chart completion and productivity expectations
· Develops unique ways to deliver health care in a compassionate, expedited, and patient-centered manner
· Maintains an exceptional level of customer service; addresses and resolves complaints; serves as an example by providing excellent service to internal and external customers, employees and patients
· Maintains positive therapeutic relationships with patients, using language and nonverbal behavior to demonstrate respect and establish rapport
· Maintains continuing medical education, licensure, credentialing, and privileging requirements at all times
· Maintains safe and clean working environments by complying with procedures, rules, and regulations
· Complies with federal, state, and local legal professional requirements by studying existing and new legislation; enforces adherence to requirements; advises management on needed actions
· Embraces and promotes a professional working environment based on understanding and respect for diversity and multi-culturalism in all of its forms; demonstrates sensitivity, acknowledges varied beliefs, attitudes, behaviors, and customs, and encourages communication and appreciation of all forms of diversity
· Maintains patient confidentiality by controlling the environment and information being disclosed to authorized individuals ensuring HIPAA and organizational compliance requirements at all time
Qualifications:
· Position requires extended periods of sitting and standing;
· Position requires regular bending and reaching, including transfer of patients;
· Must be able to lift, carry and push 20 pounds on a regular basis;
· Must be able to lift and carry up to 50 pounds on an occasional basis;
· Able to adapt to rapid, unpredictable work flow;
· Able to focus on work at hand with attention to detail;
· Ability to work with difficult patients and those with mental illness.
Experience and Education:
· Graduate of an accredited Physician Assistant or Nurse Practitioner program.
· Maintain licensure with the State of Arizona to practice as a Physician Assistant or Nurse Practitioner
· Maintain board certification to practice as a physician assistant or nurse practitioner
· Certified in Basic Life Support
· Minimum of three years' experience in either Family Medicine, Internal Medicine or Emergency Medicine; hospital experience preferred
· Understanding of substance and mental health issues
· Computer proficiency inclusive of ability to use electronic health records
· Excellent communication skills
· Experience in working with underserved populations highly desirable
· Experience in a community health center preferred
We are an equal opportunity employer. All resumes will be reviewed for education and experience. Employment practices will not be influenced or affected by an applicant's or employee's race, color, religion, sex (including pregnancy), national origin, age, disability, genetic information, sexual orientation, gender identity or expression, veteran status or any other legally protected status.
REQ 45722 46174
Benefits:
401(k)
Dental insurance
Health insurance
Paid time off
Vision insurance
Schedule:
Work Location: One location
How to Apply
Indeed
Apply for this Job